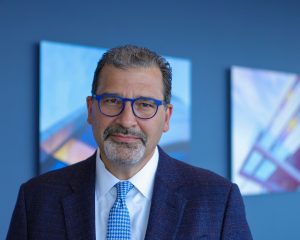 Orthopedic Associates of Hartford Announces the Appointment of 
Pietro Memmo, MD as President
HARTFORD, Conn., March 16, 2022– Orthopedic Associates of Hartford (OAH) today announced that its Board of Directors has appointed Pietro Memmo, MD as President effective January 2022.
Dr. Memmo is an Interventional Physiatrist, one of the few in the State of Connecticut who is Board Certified in physical medicine and rehabilitation and pain management. He joined OAH in 2003, currently serves as the Assistant Director of the Orthopedic Associates Surgery Center in Rocky Hill, and has served on the OAH Executive Committee for the past 10 years.
"The entire OAH team is thrilled to have Dr. Memmo as the next physician president as elected by the partnership. His nearly twenty years of work at OAH will help ensure a smooth transition. We are confident that his insight and enthusiasm will be instrumental in OAH leading the way in innovation and providing high-quality care." said Timothy Taylor, CEO of OAH.
Prior to his career in medicine, Dr. Memmo was in the banking industry for 8 years."Dr. Memmo will be bringing his business background and previous banking experience into running the practice, and his financial expertise is vital as we manage the business side of medicine," added Taylor.
"I am honored for the opportunity to lead OAH with our extremely talented team. Our number one goal is delivering exceptional clinical care to our patients," said Dr. Memmo. "Practicing high-quality medicine requires collaboration and teamwork. We are meeting the challenges of the growing population of Connecticut, and we are continuing to grow our practice to meet the needs of our patients at every stage of their lives.
"Additionally, under Dr. Memmo's leadership, the practice will continue to migrate more inpatient surgeries to outpatient venues.
"Our experience shows that outpatient surgeries are more cost-effective for patients, with much lower infection rates and superior outcomes. Over the next 5 years, I see a boom happening in orthopedics," added Dr. Memmo. "With the technology of robotics and advances in pain control, many of our spine and joint replacement surgeries are being done in an outpatient setting at our state-of-the-art surgery centers in Rocky Hill, Glastonbury, and Hartford. What makes OAH unique is we continually recruit nationally recognized leaders in all specialties."
About Orthopedic Associates of Hartford:
Orthopedic Associates of Hartford, PC (OAH) is one of Connecticut's largest and most respected orthopedic specialty groups. As a total orthopedic care center, our physicians specialize in orthopedic surgery, dealing with the diagnosis and treatment of diseases and injuries of the bones, muscles, tendons, nerves, and ligaments in adults and children. Convenient offices are located throughout central Connecticut in the following locations: Enfield, Farmington, Glastonbury, Hartford, Manchester, Plainville, and Rocky Hill. OAH has three state-of-the-art surgical centers that provide the highest level of surgical care on an outpatient basis in Rocky Hill, Glastonbury, and Hartford. In addition, OAH operates an MRI Center in Farmington that utilizes cutting-edge technology to provide optimal imaging services, and urgent care centers in Farmington and Glastonbury that provide after-hour and weekend care for acute orthopedic injuries. To learn more, please visit oahct.com.
###
Contact:
Julie Nicholson
860-836-6329